I remember meeting Mayra Suleeva at her Kenes Center in Almaty in 2001.
As often, this meeting was motivated by my desire to photograph children with Down Syndrome; what I had never done before.
Immediately, we sympathized. She enjoyed my photos and I enjoyed the paintings of one of her daughters, Aliza.
We had to become friends. But I stayed for a long time to come back to see her.
Last year, in Almaty for my project with visually impaired children, I went to visit her in her center, very close.
It was as if only one or two years had passed.
Immediately we talked about asking the Foundation of the first President, thanks to whom I was there, to support a workshop project with children with Down Syndrome of Kenes.
The Foundation quickly approved the idea and suggested that a second workshop be held in Astana at the same time with children mentally deficient.
The experience was fabulous (the weather a little less;)
The support of the Foundation was total. I would especially like to thank Zauré Turkmenbaeva, Medeu Karzakbaev and Erlan Sataev. Without them everything would have been much more complicated to realize, and then my availability for the children would have been less great.
All these children, adorable and involved in the project despite their disability, deserved your (our) investment.
Many thanks to parents and educators too.
Parallel to this one, I ran during two weeks a workshop for 10 children with mental retardation of Astana, the capital.
It was an enriching new experience for me. I would like to warmly thank especially the mothers of Nazerke, Zere, Rozagul and Azamat.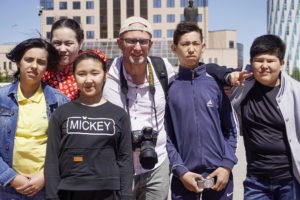 International Children's day 2018 in Astana
Éric with Aruzhan, Zere, Nazerke, Nurkanat and Allabergen