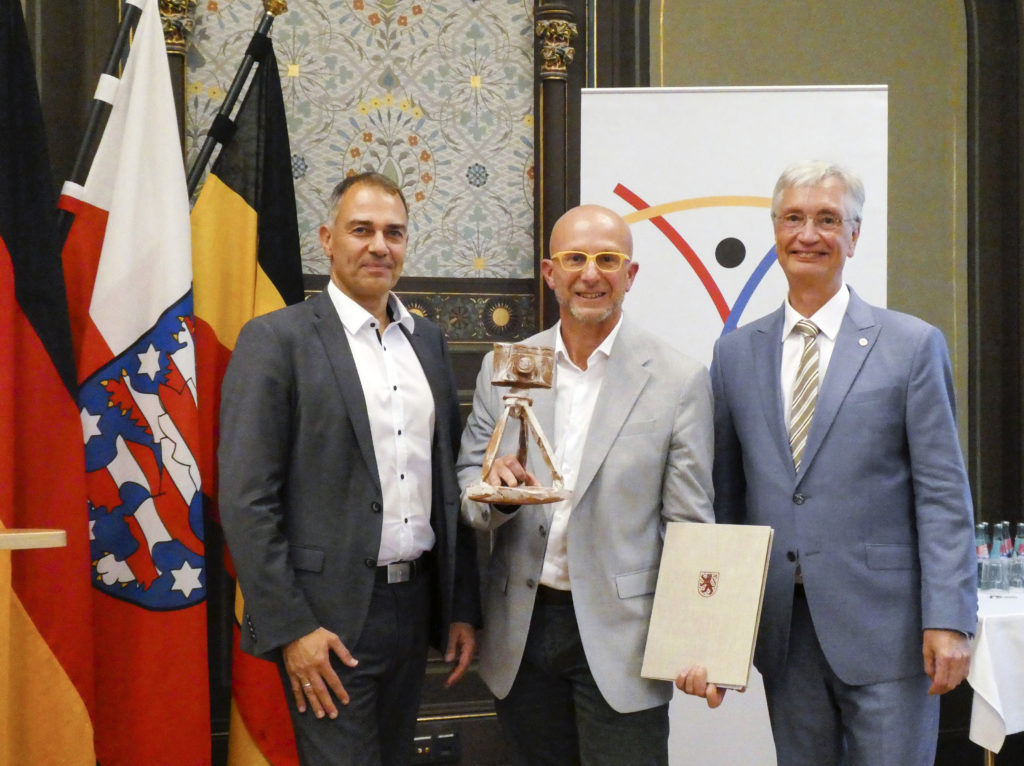 EN
On Tuesday 29 August 2023, the Mayor of Weimar presented me with the Weimar Triangle 2023 Award.
In the presence of German and Polish personalities and diplomats, but also in the presence of Marc Sagnol, a loyal friend and connoisseur of Eastern European countries.
Here is the press release:
The project "With the eyes of no one else" by the French photographer Eric Vazzoler was awarded the Weimar Triangle Prize 2023 on Tuesday, 29 August. The "Weimar Triangle" association, founded in 2010, and the Lord Mayor of the City of Weimar thus honour the civic engagement of the Frenchman, whose project brought 25 visually impaired young people from Germany, Poland and France into artistic exchange.
FR
Mardi 29 août 2023, j'ai reçu de la main du maire de Weimar le prix du Triangle de Weimar 2023.
En présence de personnalités et de diplomates allemands et polonais, mais aussi en présence de Marc Sagnol, fidèle ami et fin connaisseur des pays de l'est.
Voici la dépêche:
Le projet "With the eyes of no one else" du photographe français Eric Vazzoler a reçu mardi 29 août le prix du Triangle de Weimar 2023. L'association "Triangle de Weimar", fondée en 2010, et le maire de la ville de Weimar honorent ainsi l'engagement citoyen du Français, dont le projet a permis à 25 jeunes déficients visuels d'Allemagne, de Pologne et de France d'échanger sur le plan artistique.
RU
В присутствии немецких и польских деятелей и дипломатов, а также Марка Саньоля, верного друга и знатока стран Восточной Европы.
Предлагаем вашему вниманию пресс-релиз:
Во вторник, 29 августа, проект французского фотографа Эрика Ваццолера "Ничьими глазами" был удостоен премии "Веймарский треугольник 2023". Ассоциация "Веймарский треугольник", основанная в 2010 году, и мэр города Веймара таким образом отмечают гражданскую активность француза, чей проект объединил 25 слабовидящих молодых людей из Германии, Польши и Франции в рамках художественного обмена.