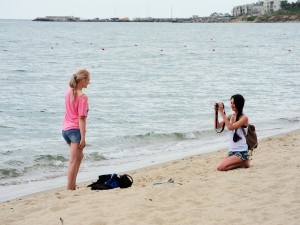 Illichivsk is situated on the coast of the Black Sea, about 20 km west from Odessa in the south-western of Ukraine.
Sometimes you first think you're unlucky.
I have to be honest. I wanted to lead my second workshop in Ukraine in Odessa; for many different reasons. The fact is that there, I did not find the conditions to gather young people. Famous photographer and long time friend, Victor Marushchenko, said to me that in Illichivsk I could meet a nice young couple ready for all kind of initiative around photography.
Indeed, Darya and Artiem helped me a lot.
In addition to Poroshenko's decision  to forbid all signs of communism that could provoke a quick removal of Lenin's Statue here, I embraced the opportunity.
Our workshop will take place daily in The Palace of Culture from Tuesday, June 2nd untill Saturday, June 13th.
I'm so lucky here!
Éric